The 13th edition of the biggest Job, Training, Career fair in Luxembourg took place on Friday 24th March and it was, once again, a huge success. This year, all previous records were broken with no less than 200 companies present on site, something never seen before in the history of the Moovijob Day Luxembourg Fair, or even any other job fairs in the Grand Duchy. Nearly 10,000 offers for permanent and temporary contracts and internships were available, as well as training courses. This exceptional opportunity to meet so many companies in one day led to a huge response. In fact, the fair also saw an absolute record number of participants, with more than 15,000 visitors counted throughout the day.
"I can't help but think back to the very first edition launched in 2011. What a long way we've come! This 13th edition proved that we could provide positive answers to a tense but very dynamic job market: 200 companies present, more than 15,000 visitors welcomed, 1166m² of stands, 5 conferences, 800 meals during the exhibitors' lunch, thousands of interviews, smiles and overall a good mood. It was truly a record-breaking event." - Yannick FRANK, Luxembourg Director at Moovijob.com.
🎬 Discover the video recap of this 2023 edition of the fair!
This 13th edition was also full of surprises!
To begin with, the lounge area sponsored by CFL offered, for the first time, workshops presented by specialists, as well as virtual reality animations.
Another special feature of the fair was the presence of a car in real-life-size at one of its stands. Indeed, the Merbag team, sponsor of the event, came accompanied by the new EQE. By the way, some of you may have had the chance to meet the team in complete privacy inside this amazing car. Don't hesitate to share your anecdotes with us. 😉
During this day full of excitement, visitors also had the opportunity to participate in 5 conferences which were held on a wide range of topics such as career opportunities with European Institutions (by EU Careers) or the keys to a successful pitch in English (by ICN Business School).
PwC also animated a conference on the theme: "Is Luxembourg still an Eldorado to attract talents?". The Embassy of Canada presented a conference on expatriation to Canada, to live and work there.
Finally, Yannick Frank, Luxembourg Director at Moovijob.com, took center stage and co-hosted a conference on interim work in Luxembourg with the company Sofitex.
The participants were very pleased with the whole set-up of the fair, as Carole, who is looking for a job in environmental sciences, testifies: "What I really appreciated was the fact that we were given information about all the companies and that they were separated into different areas. This makes it easy for us to search for what we need."
Vitali, seeking a position as a supply specialist, shares that it was a "great opportunity" to meet so many companies in one day.
200 companies were actually present at the fair, divided into several thematic areas: Sales / Horesca / Services, IT / Consulting, Finance, Consulting / Training / Public Service, Industry / Construction / Transportation, Health / Care / Social and Interim / Recruitment.
My Hoang, a Vietnamese student in Germany, appreciates the face-to-face aspect of the job fair: "I have the opportunity to see people face-to-face and not just a screen that would allow me to apply in one click and receive an answer without any interaction. Here, I feel like I have a better chance of getting hired. It also allows you to learn more about the companies and meet your potential future colleagues."
For the participating companies, the day passed in a similar manner with lots of happiness, good humor, and productivity. They were all impressed by the organization and said they met very interesting profiles.
Jacqueline Scheer, HR Recruitment Specialist at Päiperléck, mentions a very friendly atmosphere and the very good spirit of the visitors. For her 13th participation at the Moovijob Day Luxembourg fair, Marie Komorek, Branch Manager Construction at Sofitex, underlines the organization of the fair which "is enriched by participants" and "good applications".
John Lambrechts, HR Assistant Manager at Thomas & Piron, says: "It was a huge edition, like the previous years. We met a lot of very diverse and interesting profiles. In terms of visibility alone, it's already a great event. So, we are very satisfied with this edition."
At Rotarex, Margaux Dumas, Talent Acquisition Manager, shares with us the satisfaction of her team on site for their first sponsorship of the industry department: "We are very happy! We had a lot of people, lots of CVs, lots of good profiles, quality. We will also carry out a lot of actions to employ young graduates this year."
Lastly, Moovijob.com would like to thank the various sponsors of the fair once again:
Sofitex - Gold Sponsor
Auchan – Sales Sponsor
BIL – Finance Sponsor
CTG – IT Sponsor
ICN Business School – Training Sponsor
Merbag – Services Sponsor
Päiperléck – Healthcare Sponsor
Rotarex – Industry Sponsor
Sodexo – Catering Sponsor
Thomas & Piron – Construction Sponsor
As you can see, this 13th edition was a success for both visitors and companies. We are therefore giving our all to make the next one even more exceptional!
But until then, you will have the opportunity to participate in other recruitment events in 2023. This year, Moovijob.com is organizing three events in the countries bordering the Grand Duchy. On May 23rd, we will be in France for the Moovijob Night Luxembourg in Paris. You will also find this recruitment afterwork specialized in law, IT and finance, a few weeks later, on June 13th, in Belgium for the Moovijob Night Luxembourg in Brussels. In September, on Friday 29th, the largest students and young graduates fair in Luxembourg, Unicareers, will be back. Finally, to finish this 2023 event calendar off, a second edition of Moovijob Day Luxembourg will take place in Saarbrücken on Wednesday, November 22nd. In the meantime, more than 6000 job offers in Luxembourg are available all year long on the Moovijob.com website.
Photo gallery 📸
Moovijob Day Luxembourg Fair 2023
The giant map of the job fair
The QR code wall by type of sector
The lounge area sponsored by CFL
Sofitex – Gold Sponsor
Auchan – Sales Sponsor
BIL – Finance Sponsor
CTG – IT Sponsor
ICN Business School – Training Sponsor
Merbag – Services Sponsor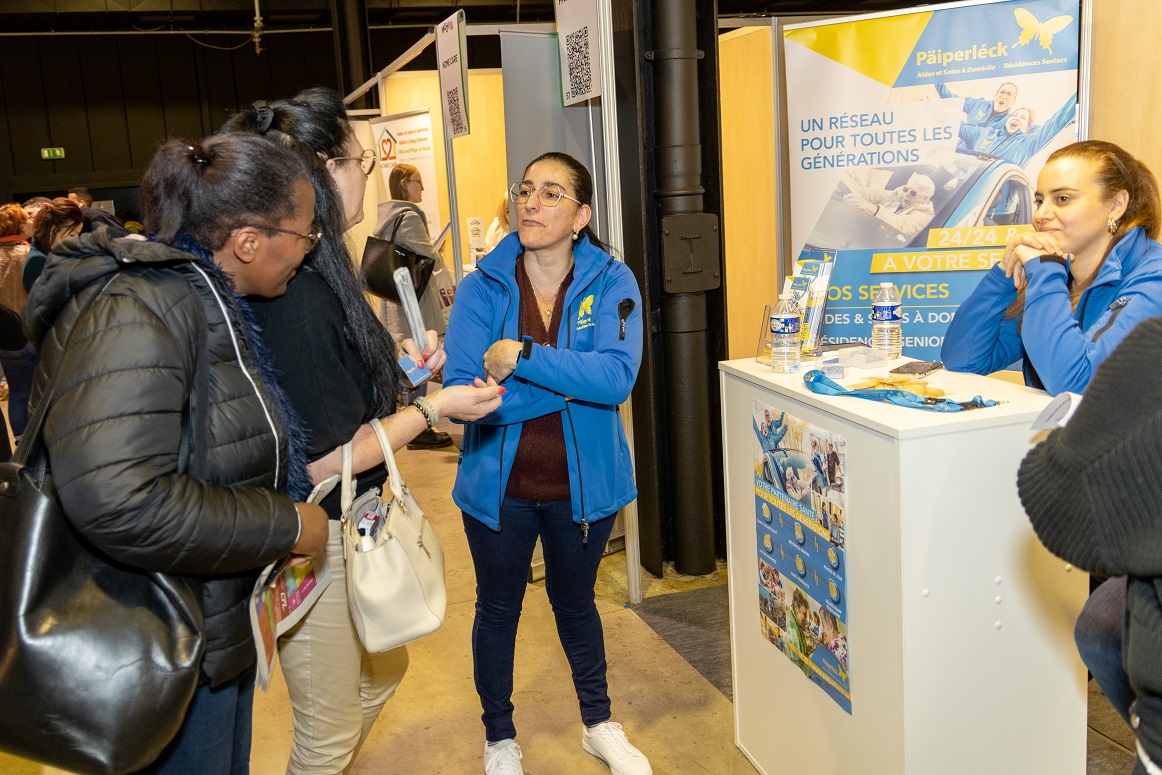 Päiperléck – Healthcare Sponsor
Rotarex – Industry Sponsor
Sodexo – Catering Sponsor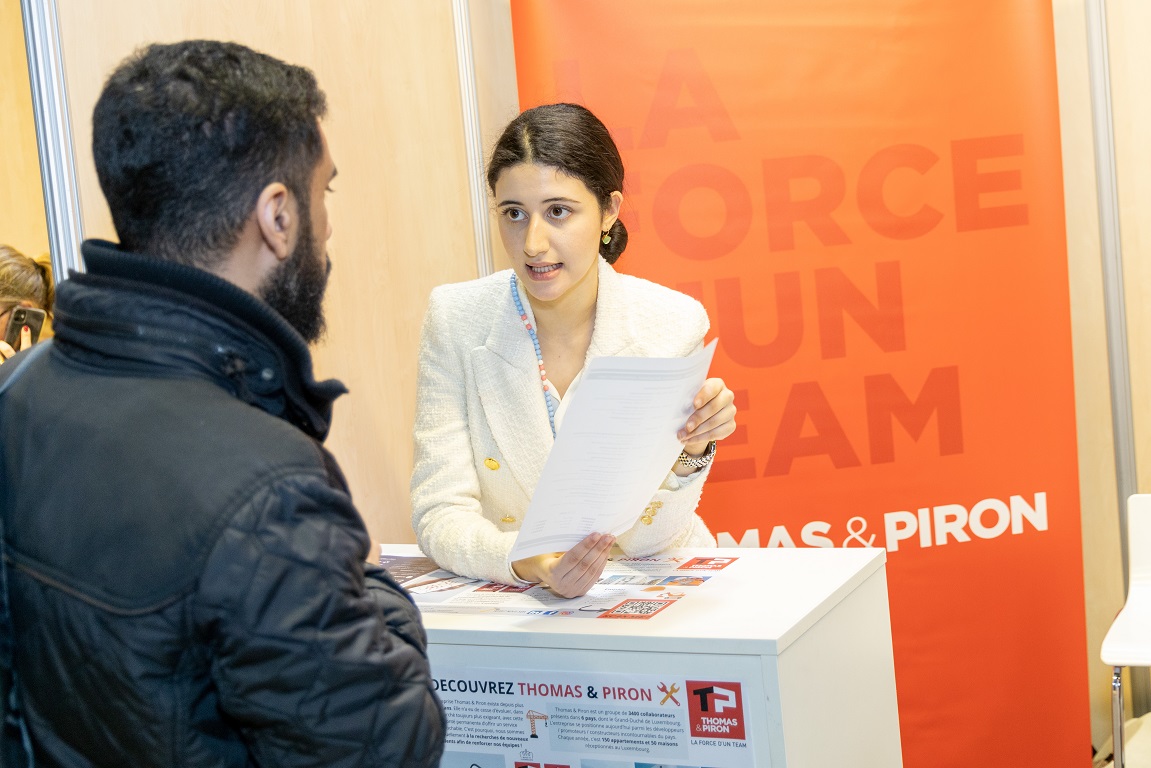 Thomas & Piron – Construction Sponsor