After two previous virtual editions, the largest Job, Training and Career fair of Luxembourg and the Greater Region decided to return to a face-to-face format on Friday, March 25. For the organizers' great pleasure, the event generated a huge interest from the companies present, but also from the visitors, who were more than 12,000 to participate and try to find their future job, internship, training or advice on the job market in Luxembourg.
"We couldn't have wished for a better comeback for this face-to-face event. All the elements were in place for the fair to go well, both in terms of organization and attendance during the day." Yannick FRANK, Luxembourg Director at Moovijob
🎥 Click to discover the video of the 12th edition of the fair!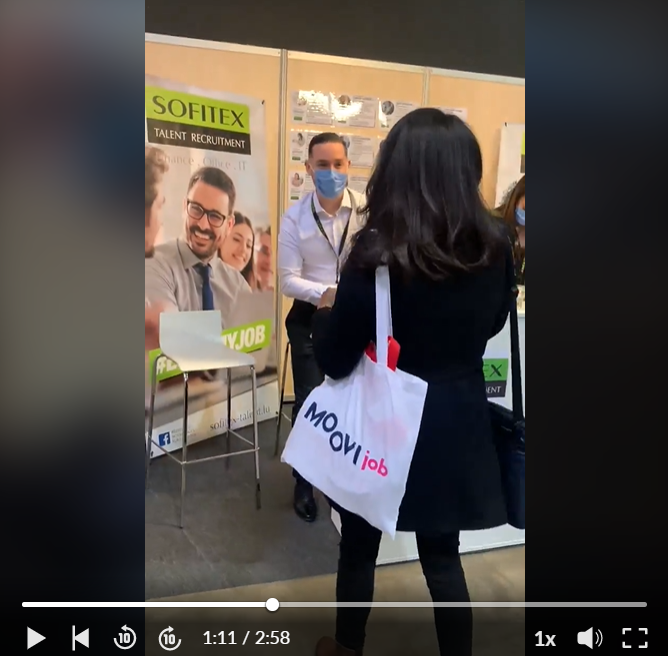 Many visitors left with a smile on their faces and useful information, like Rachelle, who is looking for a job in the retail sector: "I had carefully targeted the exhibitors before my visit, and I was therefore able to optimize my time at the fair by meeting only those companies. I visited the stands of Delhaize, Colruyt and Auchan. The exchanges went very well and I am now waiting to be contacted again! It's a very well organized day and it must be maintained because it's an excellent opportunity for people looking for a new job."
Patricia, on the other hand, came to find a job in catering or hospitality. She was able to meet many employers in one day, such as Sodexo, Auchan, Delhaize or even EURES, to find information about potential international opportunities. "I had a great morning with very nice people, now let's hope that the follow-up will be just as positive!"
Nearly 140 companies were present at the fair, offering a very wide range of different professions and jobs. In order to help visitors find their way around, the stands were divided into several thematic areas: IT, Finance, Sales/Retail/Services, Industry/Construction, Training/Consulting and finally, Health, which for the first time included 6 exhibitors from the country.
Régis, a nurse currently looking for a job, says: "I find it a unique opportunity to bring together job seekers and employers. I was able to meet employers in the field of Health, temporary work agencies and finally the booth in support of Ukraine which is a very nice initiative. Thanks to all the organizers for this day, and especially Moovijob!"
The Moovijob Day Luxembourg fair is open to all visitors, regardless of their background or professional experience. Mihaéla Anna, a student at ESCE Paris in the Franco-German International Management program, was able to meet with a large number of different companies in the context of her internship search: "Of course, I didn't have the opportunity to get in touch with all the companies, but I have the impression that I was able to establish many contacts. A few days after the fair, I was already contacted by a company with which I had a job interview. I would like to thank the Moovijob team once again for organizing this fair and for the many opportunities as well as the job offers that the fair offers."
For the participating companies, one feeling prevails: the happiness of being able to meet potential candidates face to face, to exchange ideas and to see smiles on their faces.
For Samantha Nguyen, Customer Relations Manager at ICN Business School, this day was an opportunity to meet a lot of people, with extremely varied and, above all, very interesting profiles.
For Maxence Clerbout, Senior Recruitment Officer at Aztec Group, this edition was a real success: "The Moovijob Day is "THE place to be" in terms of Career Fair in Luxembourg with thousands of people present, everything was very well organized and we will be back with great pleasure next year."
In addition, Edwin Borgatti, Talent Acquisition Manager at Sofitex Talent Recruitment, said: "This return to face-to-face meetings is good. Even if the virtual one has its advantages, we are very happy to have direct contact with the participants again. We had a huge crowd throughout the day and we'll be happy to get back in touch with the visitors soon and offer them opportunities."
Finally, Moovijob would like to warmly thank all the sponsors of the fair:
Sofitex - premium sponsor
Auchan - retail sponsor
Aztec - finance sponsor
Ceratizit - industry sponsor
CTG - IT sponsor
ICN - education sponsor
Servior - health sponsor
Thomas & Piron - construction sponsor
While waiting for the next edition, several recruitment events will be organized in 2022, starting with the Moovijob Night Luxembourg, the special IT and Finance afterwork, which will be held on May 31. At the beginning of the school year, the highly anticipated event for students and young graduates, the Unicareers fair, will also make its return on September 30th. Finally, the last event of the year will be organized in virtual format on November 18. In the meantime, more than 5,000 job offers are published all year long for positions in Luxembourg on the Moovijob.com website.
Photo story 📸