1000+ employees
Workforce
In a few words
Working in the public service means being at the service of the citizen within the public administration, which consists of 24 ministries and more than 120 administrations and services.
Today, the Luxembourg civil service employs near 32,000 agents.
Public sector jobs have two fundamental characteristics in common: working in the common interest and providing a quality public service.
The Civil Service also offers a wide choice of possible jobs and careers, adapted training courses allowing professional development throughout one's career, as well as internal mobility opportunities.
Learn more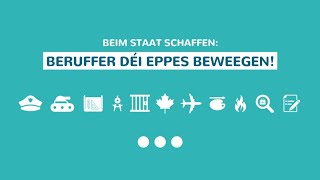 Travailler à la Fonction publique : des métiers qui font bouger les choses !
Let's meet
We participate in Moovijob recruitment events! Come and meet us face-to-face to maximise your chances of being recruited.