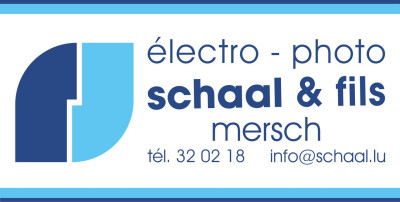 Paul Schaal & fils
careers and jobs
22 Rue Grande-Duchesse Charlotte 7520 Mersch
51 - 100 employees
Workforce
In a few words
Société fondée en 1945 par Gust Schaal, développée par son fils Paul Schaal à l'adresse 45, rue G-D. Charlotte à Mersch est spécialisé dans l'installation debasse tension + courant faible.
Depuis 1988 au 22, G-D Charlotte avec atelier et hall dans la route d'Arlon n°60, sous direction des frères René, Claude et Dan Schaal.
Nous vous proposons : câblage informatique, domotique, éclairage, installation photovoltaïque, dépannage, luminaires, appareils photos, studio, photo.
Dans notre magasin vous trouvez petit et grand électroménager, luminaires, multimédia, matériel électrique, chauffage et climatisation portable.
Job offers from Paul Schaal & fils
Paul Schaal & fils has no current vacancies on Moovijob.com. In order to receive new job offers from this company as soon as they are posted online, we recommend that you create an alert below.
Add this company to your favorites and receive its new job offers as soon as they are published.
You have an account on Moovijob.com? Login
---