1 - 10 employees
Workforce
In a few words
La HR Academy, c'est la référence RH au Grand-Duché du Luxembourg !
Créée en 2014 en plein cœur de Luxembourg, nous comptons plus de 250 étudiants diplômés et offrons des cursus adaptés aux étudiants, mais aussi aux professionnels.
Tous nos diplômes sont certifiés FEDE (Federation of EDucation in Europe), assurant une reconnaissance au niveau européen.
La HR Academy délivre un programme de haut niveau, conçu par des intervenants professionnels en Ressources Humaines et en droit du travail Luxembourgeois.
Nos cursus destinés aux étudiants:
Bachelor Européen Assistant en gestion des Ressources Humaines
Master Européen en Management des Ressources Humaines
Master Juriste
Nos cursus destinés aux professionnels:
Master Pro RH : en un an soyez titulaire d'un Master en Ressources Humaines Luxembourgeoises
MBA International Executive HR Strategy, unique programme de formation continue de haut niveau à Luxembourg, destiné aux cadres expérimentés souhaitant accroître leurs compétences managériales et stratégiques en termes de Ressources Humaines.
Mais ce n'est pas tout, la HR Academy c'est aussi :
Un Réseau Alumni vous permettant d'être en relation avec les décisionnaires RH du Luxembourg
Un Parrain professionnel qui vous accompagne tout au long de votre cursus
Différents projets RH tout au long de l'année... devenez rédacteur en chef pour L'Essentiel Radio, accompagnez des consultants lors de leurs rendez-vous..."
Learn more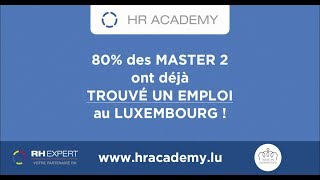 HR Academy - Une formation efficace
Job offers from HR ACADEMY
HR ACADEMY has no current vacancies on Moovijob.com. In order to receive new job offers from this company as soon as they are posted online, we recommend that you create an alert below.
Add this company to your favorites and receive its new job offers as soon as they are published.
You have an account on Moovijob.com? Login
---