Les Compagnons du Devoir et du Tour de France at Moovijob Day Metz
Les Compagnons du Devoir vous proposent des formations complètes et originales alliant :
savoir-faire et savoir-être,
technique et culture,
tradition et innovation.
Reconnue pour leur qualité, ces formations permettent d'apprendre un métier et de s'accomplir dans un environnement de confiance.
Vous pouvez démarrer votre formation dès la sortie du collège, après un bac ou un premier diplôme, en cours d'études supérieures, ou même en reconversion professionnelle.
Chez les Compagnons du Devoir, l'apprentissage d'un métier se fait toujours en entreprise sous un statut de salarié. Ces expériences sont complétées par des enseignements généraux, techniques et culturels au sein des maisons de Compagnons.
Plus qu'une formation, les Compagnons du Devoir vous proposent de vivre une expérience professionnelle et humaine, associant transmission, voyage et culture.
Les métiers que l'on propose chez Les Compagnons du Devoir et du Tour de France :
- BÂTIMENT & AMÉNAGEMENT : Bâtisseur-Maçon, Carreleur-Mosaïste, Climaticien, Charpentier, Couvreur, Ébéniste, Étancheur, Jardinier-Paysagiste, Menuisier, Menuisier-aluminium-verre, Peintre, Plâtrier, Plombier-Chauffagiste, Serrurier-Métallier, Solier-Moquettiste, Tailleur de pierre.
- MATÉRIAUX SOUPLES : Cordonnier-bottier, Cordonnier-podo-orthésiste, Maroquinier, Sellier-garnisseur, Tapissier en décor, Tapissier en siège.
- TECHNOLOGIE DE L'INDUSTRIE : Carrossier-constructeur, Carrossier-réparateur, Chaudronnier, Électrotechnicien, Fondeur, Frigoriste, Mécanicien, Mécanicien de précision.
- MÉTIERS DU GOÛT : Boulanger, Charcutier, Pâtissier, Fromager, Vigneron.
- ET AUSSI : Maréchal-ferrant, Tonnelier.
Pour vous inscrire, rendez-vous ici : https://formezvousautrement.fr/inscrivez-vous-chez-les-compagnons-du-devoir/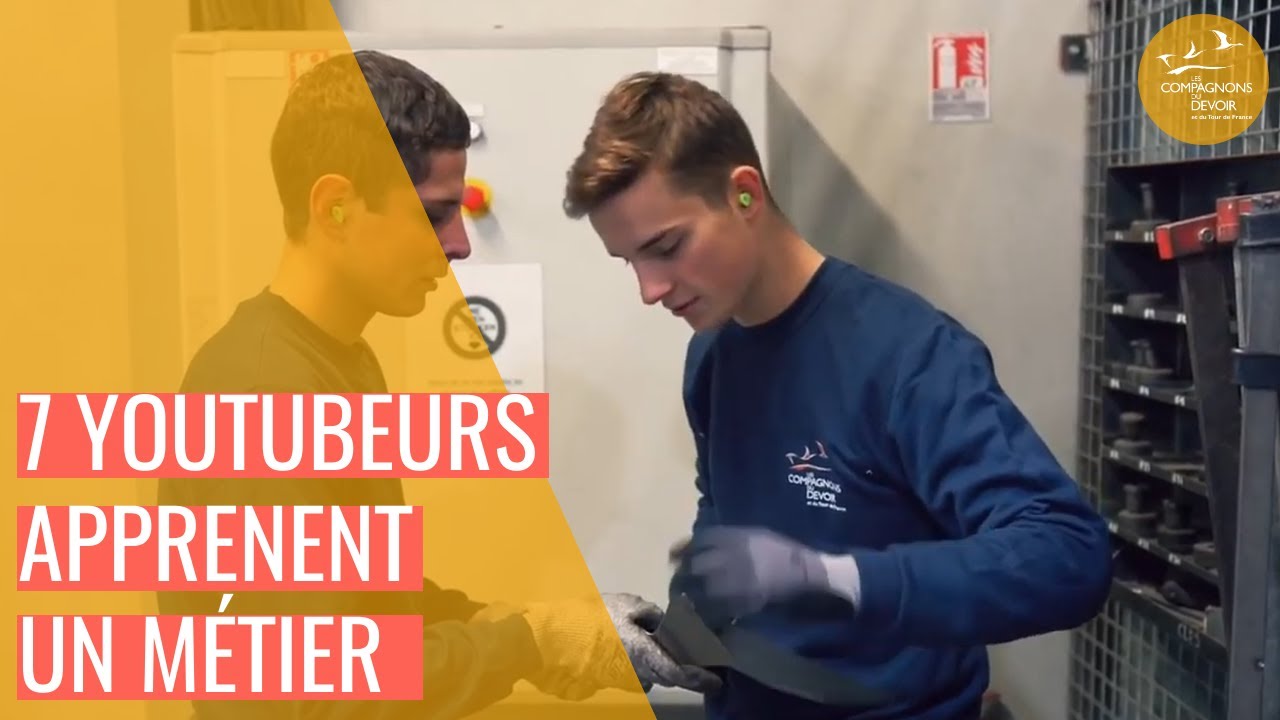 Des YouTubeurs apprennent des métiers (feat Henri Hihacks...)
We are hiring in the following field(s)
---
We are offering trainings in the following field(s)
Building industry / Public Works
Energy Environment
Hotels / Restaurants
Industry
---
Available trainings
Bâtisseur-maçon
Charpentier
Climaticien
Couvreur
Jardinier-paysagiste
Menuisier
Plâtrier
Plombier-chauffagiste
Serrurier-métallier
Chaudronnier
Electrotechnicien
Frigoriste
Mécanicien
Boulanger
Pâtissier
Vigneron
Tailleur de pierre
Tonnelier
Maréchal-ferrant
Tapissier
---
More information about the company
Les Compagnons du Devoir et du Tour de France
Add this company to your favorites and receive its new job offers as soon as they are published.
You have an account on Moovijob.com? Login
---
More information about the event
Moovijob Day Metz
September 3, 2021
Metz-Congrès Robert Schuman