51 - 100 employees
Workforce
In a few words
Dentons is designed to be different.
We are polycentric.
Dentons has no single headquarters or dominant national culture. Our polycentric, in-and-of-the community approach means we are always a local firm as well as a global firm.
We are the world's largest law firm.
With more than 20,000 people in 80+ countries around the world, we have unique breadth, depth and diversity of talent to serve the needs of our clients.
We are purpose-driven.
Dentons was the first global law firm to unveil a purpose statement. Guided by our purpose we commit to pioneering change and innovation and to bringing the best out of local and global.
Your law career at Dentons can shape up to be something extraordinary. It's a place for those who are driven to challenge. To question. To break tradition. To define what law will look like next. To put your career firmly into fast-forward.
WE ARE THE FUTURE OF LAW.
CHALLENGERS. ACCEPTED.
In pictures
DENTONS - ATRIUM BUSINESS PARK
Learn more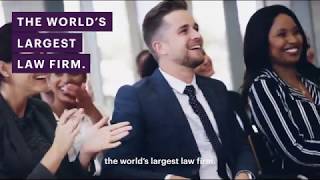 What makes Dentons different from other law firms?
Job offers from Dentons Luxembourg
Dentons Luxembourg has no current vacancies on Moovijob.com. In order to receive new job offers from this company as soon as they are posted online, we recommend that you create an alert below.
Add this company to your favorites and receive its new job offers as soon as they are published.
You have an account on Moovijob.com? Login
---