Spring Professional
careers and jobs
2A rue d'Anvers L-1130 Luxembourg
11 - 50 employees
Workforce
In a few words
Spring Professional Luxembourg is specialised in the employment of middle management and highly qualified professionals in contracting, temporary and permanent placement (CDD, CDI). Our team is comprised of industry experts recruiting in Office, Finance, Legal, HR, Marketing, Supply chain, ICT, Construction, Manufacturing and Healthcare.
Spring Professional, renowned brand in more than 25 countries, is proud to be part of The Adecco Group. As the world's leading provider of workforce solutions, the group boasts more than 34,000 full-time employees in the world.
In this continuity, Spring Professional officially announces its transition to LHH Recruitment Solutions, to provide its services as part of a unified global LHH brand for end-to-end talent solutions.
As you face new challenges and an incredible pace of change, we are ready to help you find and prepare for what's next. As part of one unified brand, we can now enable access to more expansive offerings built to create agile organizations and careers while preparing the world of talent for whatever lies ahead through LHH's solutions in professional recruitment, talent acquisition, career transition, learning and talent development, and soon in advisory.
Find out more about our professional spirit on https://www.springprofessional.lu
In pictures
Learn more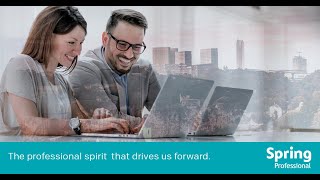 Spring Professional Luxembourg